Sanlam
Cape Town Marathon
The 42.2km Sanlam Cape Town Marathon is a prestigious global city race open to a whole spectrum of running enthusiasts from elite athletes to social runners. Along the scenic route, you will experience multiple views of Table Mountain, the Atlantic Ocean, historic landmarks, as well as many famous attractions and the hustle and bustle of Woodstock.
Sunday 15 October 2023
2023 Cape Town Marathon Route Update
The updated marathon route is to be announced at the 80-day media launch in July 2023:
1. The total ascent will potentially drop to 185m
2. The Start and Finish will be closer together and in the Cape Town Stadium Precinct
3. The Start line will move to Fritz Sonnenberg Road
4. Finish line will move to Vlei Road
2023 Cape Town Marathon Route Map
2023 Cape Town Marathon Route Profile

Marathon Batch Start Times
Batch
Batch Closes
Start Times
Elite Wheelchair
Elites
A1
A2
A3
B1
B2
C1
C2
D1
D2
D3
D4
D5
E1
E2
E3
E4
E5
F1
F2
F3
F4
F5
G1
-
-
6:05:00 AM
6:05:00 AM
6:05:00 AM
6:05:00 AM
6:05:00 AM
6:05:00 AM
6:05:00 AM
6:10:00 AM
6:10:00 AM
6:10:00 AM
6:10:00 AM
6:10:00 AM
6:15:00 AM
6:15:00 AM
6:15:00 AM
6:15:00 AM
6:15:00 AM
6:25:00 AM
6:25:00 AM
6:25:00 AM
6:30:00 AM
6:30:00 AM
6:30:00 AM
6:00:00 AM
6:15:00 AM
6:17:00 AM
6:19:00 AM
6:21:00 AM
6:23:00 AM
6:25:00 AM
6:27:00 AM
6:29:00 AM
6:31:00 AM
6:33:00 AM
6:35:00 AM
6:37:00 AM
6:39:00 AM
6:41:00 AM
6:43:00 AM
6:45:00 AM
6:47:00 AM
6:49:00 AM
6:51:00 AM
6:53:00 AM
6:55:00 AM
6:57:00 AM
6:59:00 AM
7:01:00 AM
Look out for support from our sponsors and partners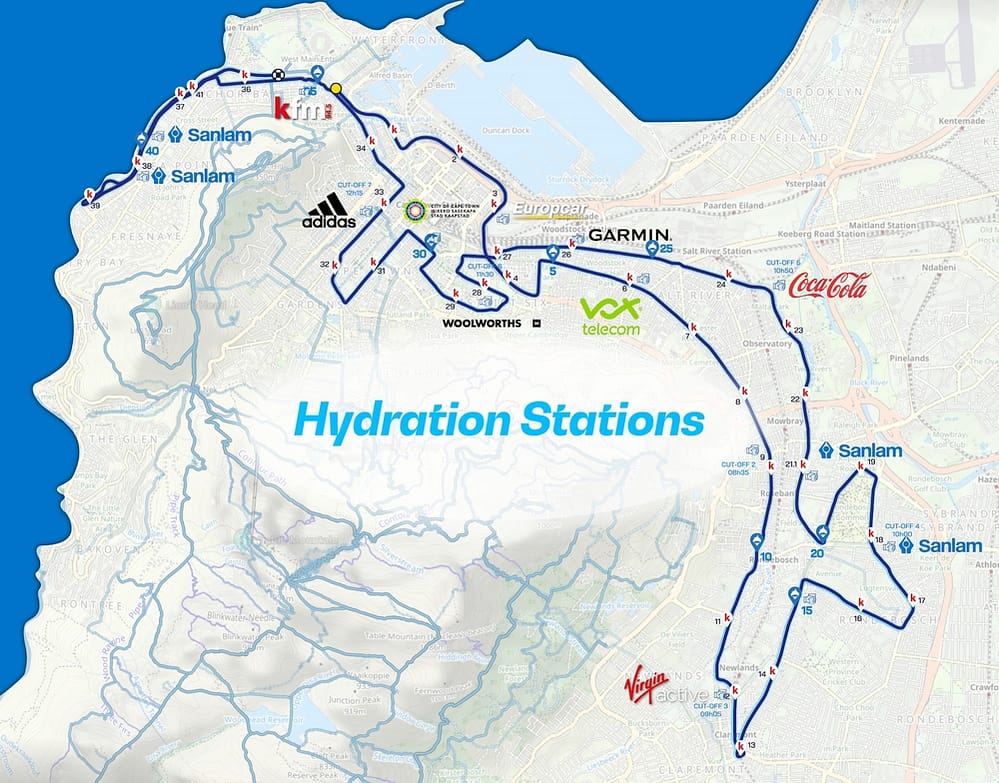 Runners can refuel at all Hydration Stations, which will be well stocked with Coca-Cola, Coca-Cola No Sugar, Powerade and water, set up at 3km intervals.
The 2023 Sanlam Cape Town Marathon Registration & Expo is on track to outperform yet again.
We look forward to welcoming over 30,000 expected attendees to the DHL Stadium in Green Point, Cape Town, between the 12th and 14th of October.
As the designated location for your race pack collection, the Expo creates the perfect opportunity for the road and trail running community to connect before the big day.
---
| | | |
| --- | --- | --- |
| Registration | Open Times | |
| Thurs 12 Oct | 9:00 - 19:00 | All events |
| Fri 13 Oct | 09:00 - 19:00 | All events |
| Sat 14 Oct | 09:30 - 17:00 | Marathon only |
| | | |
2022 Sanlam Cape Town Marathon Events Schedule
06h00
06h45
07h00
07h30
08h15
08h15
08h30
09h30
09h30
10h15
11h45
16h00
17h00
09h30
10km Cut-Off
5km Cut-Off
17h00
Expo Closing
Events Close
06h00
06h15
07h10
07h25
07h40
08h15
08h30
13h45
16h00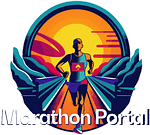 Cape Town Marathon Runners Portal
Register on Sanlam Cape Town Marathon. We recommend using the same email and password you used on the entry site (Howler).
Seven reasons to get immediate access.

Towards Africa's
1st Major
The Cape Town Marathon, in partnership with Sanlam, adidas, the City of Cape Town, Virgin Active and marathon enthusiasts from all over South Africa, will collectively host Africa's 1st Major candidate race. Everyone is invited to be part of the experience. Everyone – is a key player. This is a first-of-a-kind event for the African continent that centres around Africa's 1st Major.
Congratulations! You have worked hard and are almost ready to take on Africa's only Abbott World Marathon Majors candidate. All that's left for you to do is familiarise yourself with the Final Race Day Instructions to enjoy your marathon from start to finish.
Make your race experience even more meaningful, by giving back to a charity you really care about and want to support. Since 2018, over 500 Sanlam Cape Town Marathon runners have fundraised more than R2.5 million online via our official fundraising platform, GivenGain. Best of all, it's free, quick and fun. To get started with your own fundraising project. It's totally worth it.
Your attention is drawn in particular to clauses rendered in bold capitals in the terms. What is included is a summary for your convenience and does not form part of the agreement between you and us (Asem Running (Pty) Ltd).
2022 Cape Town Marathon Race Entry Terms and Conditions
Register to receive emails from Sanlam Cape Town Marathon by subscribing and register your preferred event interests. This will enable us to personally communicate with you. If you have unsubscribed in the past you will need to re-subscribe to receive the latest race information.