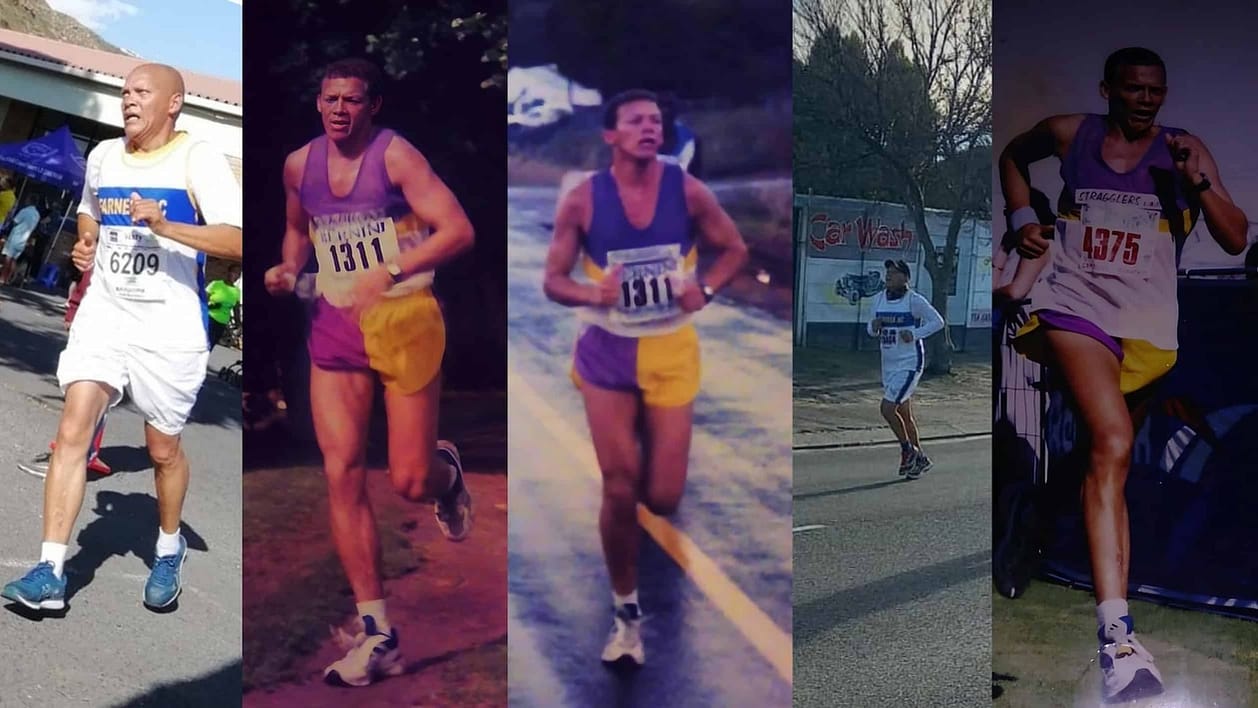 The Gift of Running: Glenville Kinnes' Journey to the Sanlam Cape Town Marathon
Media Release   |  Jul. 26, 2023
This year, 2000 Free Entry runners will take on the challenge of the Sanlam Cape Town Marathon. The influx of applications flooded the race organisation team; and moved by the heartfelt responses, they sought support from our title sponsor, Sanlam, who generously matched the initial 1000 free entries, doubling the number. Amidst the sea of dedicated runners preparing for this year's marathon, Glenville Kinnes, one of the free entry recipients, has graciously volunteered to share his inspiring running journey.
At "62-years young," Glenville will be returning to the Sanlam Cape Town Marathon start line once more. As a running enthusiast with a passion for long-distance races, Glenville's journey through life has been a testament to perseverance and determination; and he sat down with the team to kindly share his journey to this year's start line.
Glenville's roots trace back to Mannenberg; he spent his early years living with his granny in Silvertown until the age of 6 or 7 and then returned home to live with his mother. Throughout his life, he has faced various challenges, but amid life's ups and downs, one constant has remained: his love for running.
During Glenville's school days he competed in the 800-metre events, chasing short-distance PBs and challenging his friends. After graduating, his passion for pounding pavement matured and evolved into a love for long-endurance races; consequently leading him to join the Stragglers Running Club in 1996. The turning point in Glenville's running came – the same year that he joined Stragglers – with his first marathon, the Durbanville Marathon. The challenges were immense, slowly ticking one kilometre after the next; but the support and encouragement of his fellow club runners and veteran marathoners saw him cross the finish line falling forever in love with the sport and the sense of purpose it brought to his life.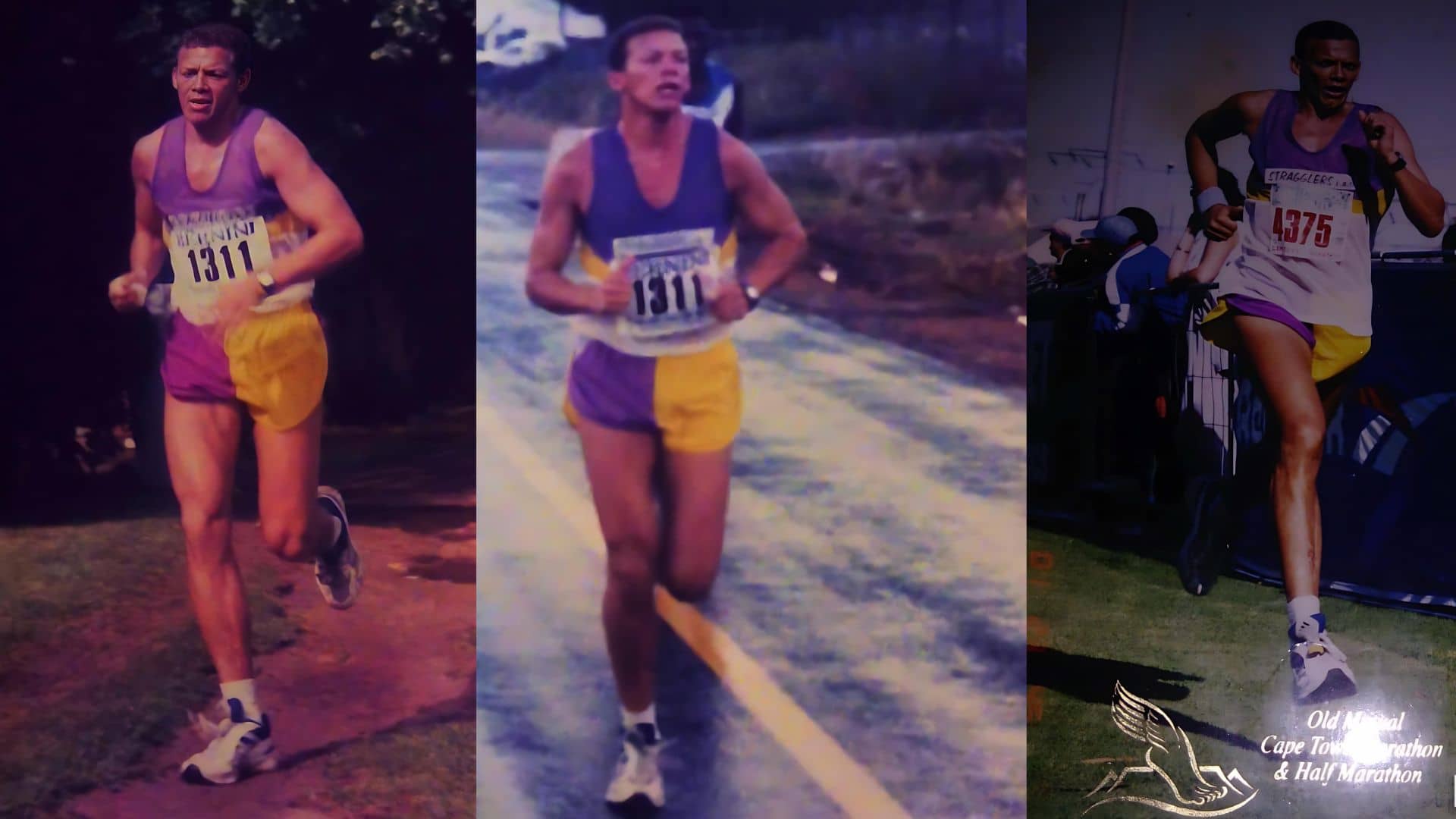 While the Stragglers Club emphasised the social aspects of running, it struggled to maintain momentum due to the gang violence in Mannenberg, their base of operations. This situation added financial strain and hindered commitment from club members; eventually forcing Glenville to leave his debut-running group. In search of a new running fellowship, Glenville found Farnese, a more established and larger club, which saw success winning the Western Province Athletics league three times during his tenure.
Over the years, Glenville accomplished remarkable feats with his running. He qualified and participated in the prestigious Comrades race twice and completed the gruelling Two Oceans ultra-marathon, even finishing under 5 hours and 30 minutes despite battling the flu on race day. He conquered the Foot of African Marathon in 1999 and achieved his personal best in the Sanlam Cape Town Marathon in 2001, finishing in an impressive 3 hours and 20 minutes. The Sanlam Cape Town Marathon became a regular qualifier for his subsequent Comrades and Two Oceans races, and a race which – beneath the background of Table Mountain – forever reminds him of the wonder that is home.
Through running, Glenville said he has found meaning and a sense of achievement. He once confessed that running was like a drug to him, and the mere thought of not being able to run was anxiety invoking. He confessed that a day without running was a day "incomplete," and during his time working for the City, he would squeeze in lunchtime runs, affectionately called "runches," to satisfy his addiction and need for the sport.
Throughout Glenville's career, he experienced a mix of highs and lows, devoting himself humbly to the City in various capacities (as a Testing Officer for the Traffic department, in the Education department, and as a Civil worker). However, since 2018, he has been unemployed and currently resides in the Green Point Shelter. Despite the challenging circumstances, receiving a ticket for this year's Sanlam Cape Town Marathon has reignited his dream of running and filled him with hope. While a Comrades sub 10-hour finish may not be within reach, he remains determined to qualify and cross this ultramarathon's finish line one last time, cherishing the sense of structure and purpose that marathon training brings to his life.
Glenville acknowledges the barrier to race entry, as the cost of participation continues to rise, making dreams seem unattainable for those without the means to buy a ticket. He shares his gratitude for the entry, which has given him hope and allowed him to relish the opportunity to pursue his dreams once more. Although also facing the challenge of expensive running shoes, Glenville's spirit remains unyielding. Relying on donated and second-hand trainers, he has adapted to various running styles, all the while continuing with his training sessions, eagerly preparing for the race of a lifetime – saying that "while it may be ridiculous," he is hoping to run a sub 4-hour 30-minute Sanlam Cape Town Marathon this year.
As the Sanlam Cape Town Marathon approaches, Glenville Kinnes stands as a shining example of resilience and hope. With each step he takes towards that finish line, he reminds us all that age is no barrier to passion, and that when given a chance, dreams can indeed become reality.
Glenville's story is a testament to the power of running, not just as a sport but as a transformative force that breathes life into our deepest desires and aspirations.
From the Sanlam Cape Town Marathon, we wish Glenville Kinnes and all our 2000 Free Entry Runner's good luck! Happy training and racing!