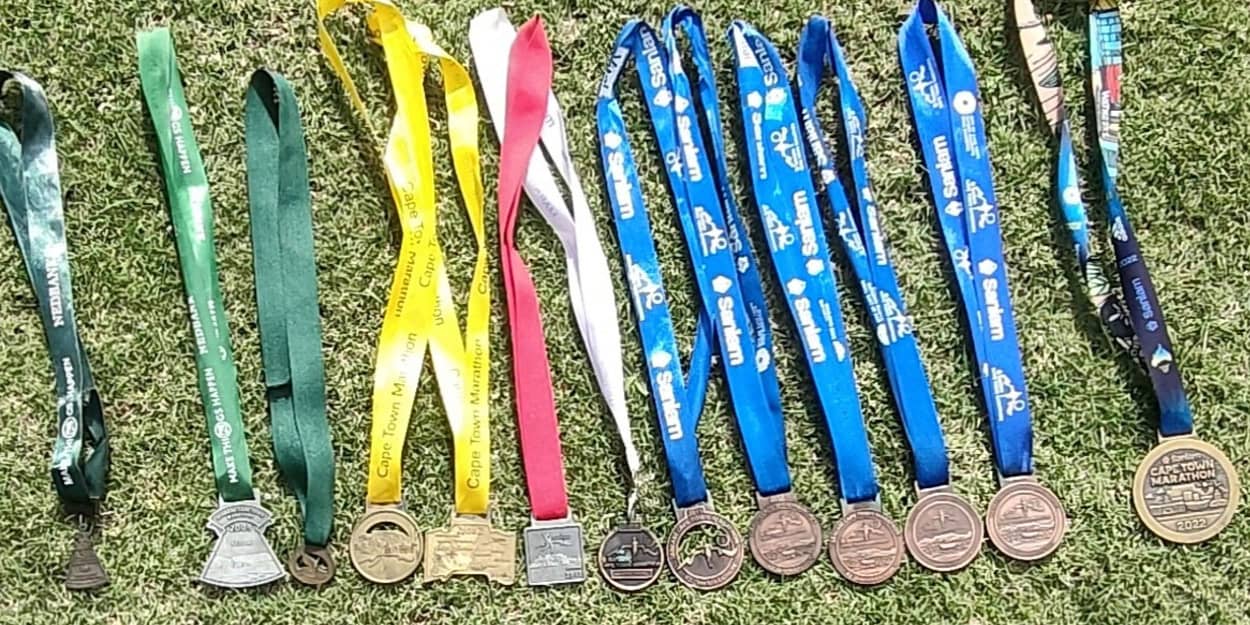 Our Marathon Hall of Fame
Latest News   |  May. 17, 2023
Marathon runners often consider finishing a 42km race a significant accomplishment, but crossing the same marathon's finish line ten times (some more) is a remarkable demonstration of unwavering commitment, resilience, and passion for the sport – making said runners deserving of a spot in our Marathon Hall of Fame.
The Sanlam Cape Town Marathon, striving to become Africa's 1st Abbott World Marathon Majors, has become the pinnacle for runners who seek to challenge themselves. Following our prestigious nomination in 2021 for the Abbott World Marathon Majors, the Sanlam Cape Town Marathon has tightly laced up and is racing to secure our official AWMM accreditation. As our race organisation team continues to push the intensity and innovation during this three-year evaluation process, we wish to highlight the same efforts from our returning runners. Celebrating over 10 years of marathon starts and finishes, our repeat-racers have watched the event evolve, from its humble beginnings to becoming internationally recognised. 
The Sanlam Cape Town Marathon's 10-year (and some) runners have endured the many training months leading up to race day, journeyed through the many-route-changes, decorated walls with a decade's worth of finisher-medals and have become part of the fabric of this city's running culture.
---
In commemoration of our runners, we present our Hall of Fame for a decade's worth of Cape Town Marathon finishes: 
Nokuthula Anita Gulwa  – 4h29m53s
What started as a personal challenge to "see if I could run a marathon," grew into the most incredible 10-year journey. After completing her first marathon, Nokuthula set out to improve her time. Through training, she connected with running groups and surrounded herself with people who have motivated her to train harder and unlock and accomplish the unthinkable. Since her first Sanlam Cape Town Marathon start line, running has stitched itself into her DNA. 
Zareena Badsha – 4h25m38s
Zeranna crossed her first Sanlam Cape Town Marathon finish line in 2012, and since, has seen returning year in and year out, she's been working towards her goal of receiving a permanent number and achieving 10-finishes. The desire to keep coming back is driven by the race energy, the annual route improvements (which adds an element of change and excitement), and now, to run in the hope of having an AWMM on home soil. 
Shamiel Daniels – 5h14m55s
Shamiel, having run a 5-hour race for his first Sanlam Cape Town Marathon, confirms that the course has been "designed for beating PBs." With a decade's worth of races under his belt, Shamiel says the call-to-run is ever-burning, as his running club's hype and excitement for race day leaves those who do not line up at the CTM start line with extreme "FOMO." 
Daniel E'silva – 3h55m21s
Daniel made her debut in the Sanlam Cape Town Marathon in 2001, and ever since this race has held a deeply cherished place in her heart.
The race route holds a special place in Rayaan's heart, as a proud Cape Townian and a dedicated decade-participant, he said, "no other race can compare to the vibrant atmosphere and strong sense of community that (he) has experienced." Rayaan credits the unwavering support of enthusiastic spectators pushing him to achieve his personal best marathon time and expressed his fondness for the race-week festivities, highlighting how the city thrives with exhilaration during this time.
From first to tenth, Rowen's Sanlam Cape Town Marathon experiences can be summed up by personal best times, all-time community vibes, and "not to mention, the awesome beer tent at the finish for sharing war race stories." 
After a near-death experience in 2010, Rita decided to turn her life around. Having survived a life-changing car accident, she walked away with minor injuries and a new let on life. While she struggled with a knee injury, Rita, motivated to find and add more meaning to her life, signed up for her first Sanlam Cape Town Marathon in 2011. She joined a run-in group and through her training fell in love with the longer-distance, endurance side of running. The Sanlam Cape Town Marathon, for Rita, will also be a reminder of her journey not only to her first start line but to "a whole new chapter of her life." 
Aslam Galant – 4h58m56s
Ebrahim Abrahams – 4h01m09s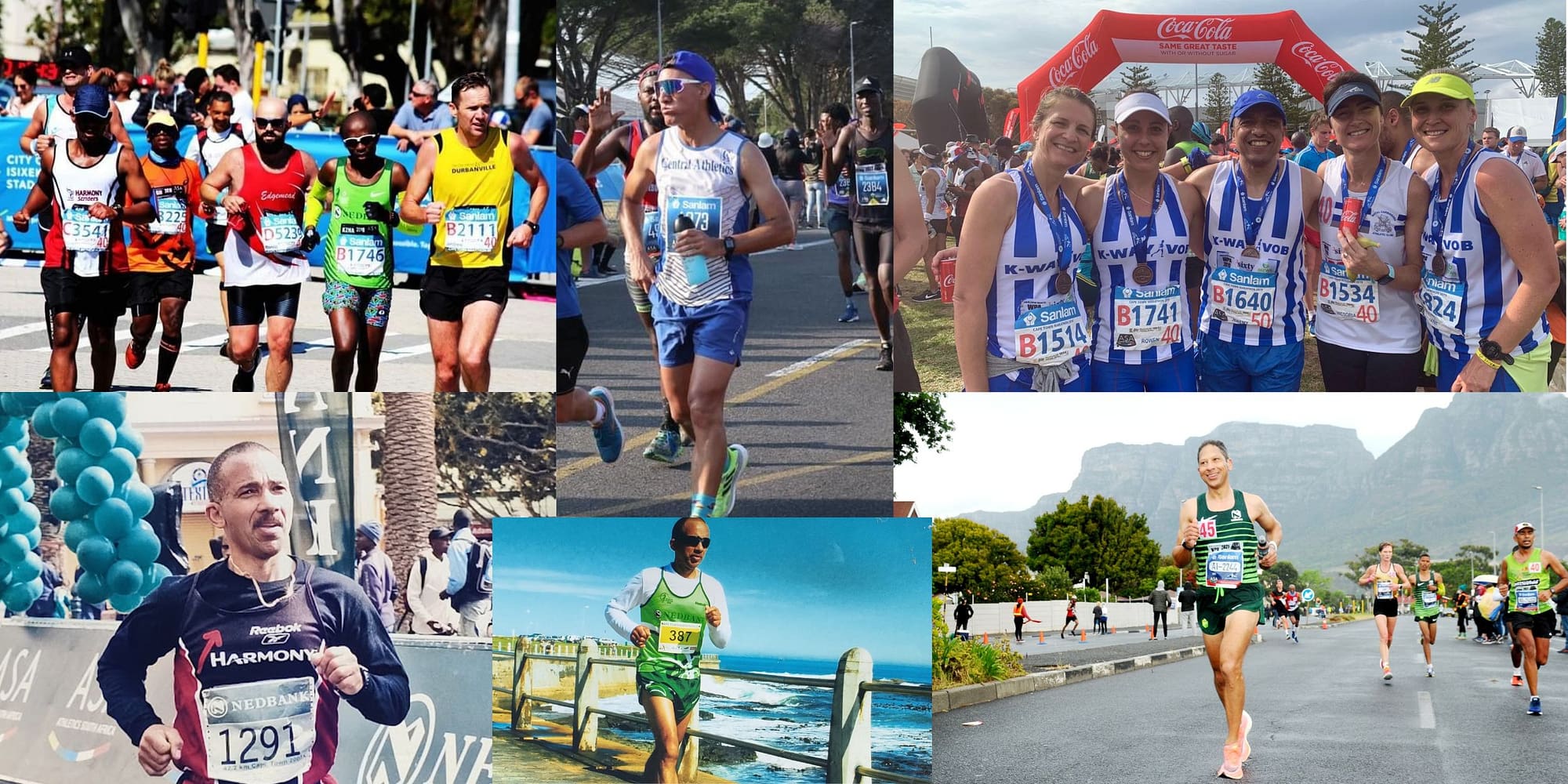 The Sanlam CT Maraton Hall of Fame 11-year runners include: 
Alison shares a story similar to most, being that the Sanlam Cape Town Marathon was her first ever marathon; a race which subsequently hooked her on running forever. Her relationship with the marathon has been particularly unique. While smashing her fastest marathon time at our event, Alison has also persevered through her slowest marathon race. After her 2021-knee surgery, she walked the entire route, and admitted that 42.4km is "a LONG way to walk." In 2022 Alison completed her 50th marathon ever, a huge milestone especially after she had sworn that she would only ever run a marathon once. With a race strategy consisting of social runs and Bar-Ones pocketed as her secret and emergency race nutrition, Alison is gunning for her 2023 finishing goal of 4h19m00s.  
Barbara Stevens – 4h18m00s
Barbara Stevens has finished an impressive fourteen Sanlam Cape Town Marathons, and says the event makes for the "perfect benchmark race." Using the Sanlam Cape Town Marathon as a "fitness gauge," she lines up yearly to run this 42km route and qualify for the Comrades. With a 4h40 goal this year, Barbara is counting down to race weekend by consistently training solo and socially. 
Hansley Weaver – 02h51m15s
Having stood at the original Cape Town Marathon start line, Hansley has witnessed the event's growth. Over the years Hansley has shaved away hours, minutes and seconds from his PB-times; owing it to the race's growing competitive and international elite field, which he claims has upped the ante and offered local athletes to test themselves against world-class professionals. 
The Sanlam CT Maraton 14-year Hall of Fame runners: 
Rowland Jansen – 3h32m14s
Having fallen in love with the marathon from when it was first introduced, then known as the City Marathon Series, Rowland has run every year since – despite missing 2020 and 2020 due to the Coronavirus. Since his first start-line, Rowland has promised himself that he will race this event for "as long as he is capable of doing so;" a celebratory race weekend that he has built into the calendar and that he looks forward to, year in and year out. 
The Sanlam CT Maraton 16-year Hall of Fame includes: 
Cailey Bredenkamp – 3h38m33s
Running pulses through Cailey's veins and with an all-time 16-finishes, she's ready to tackle her 17th race this 2023.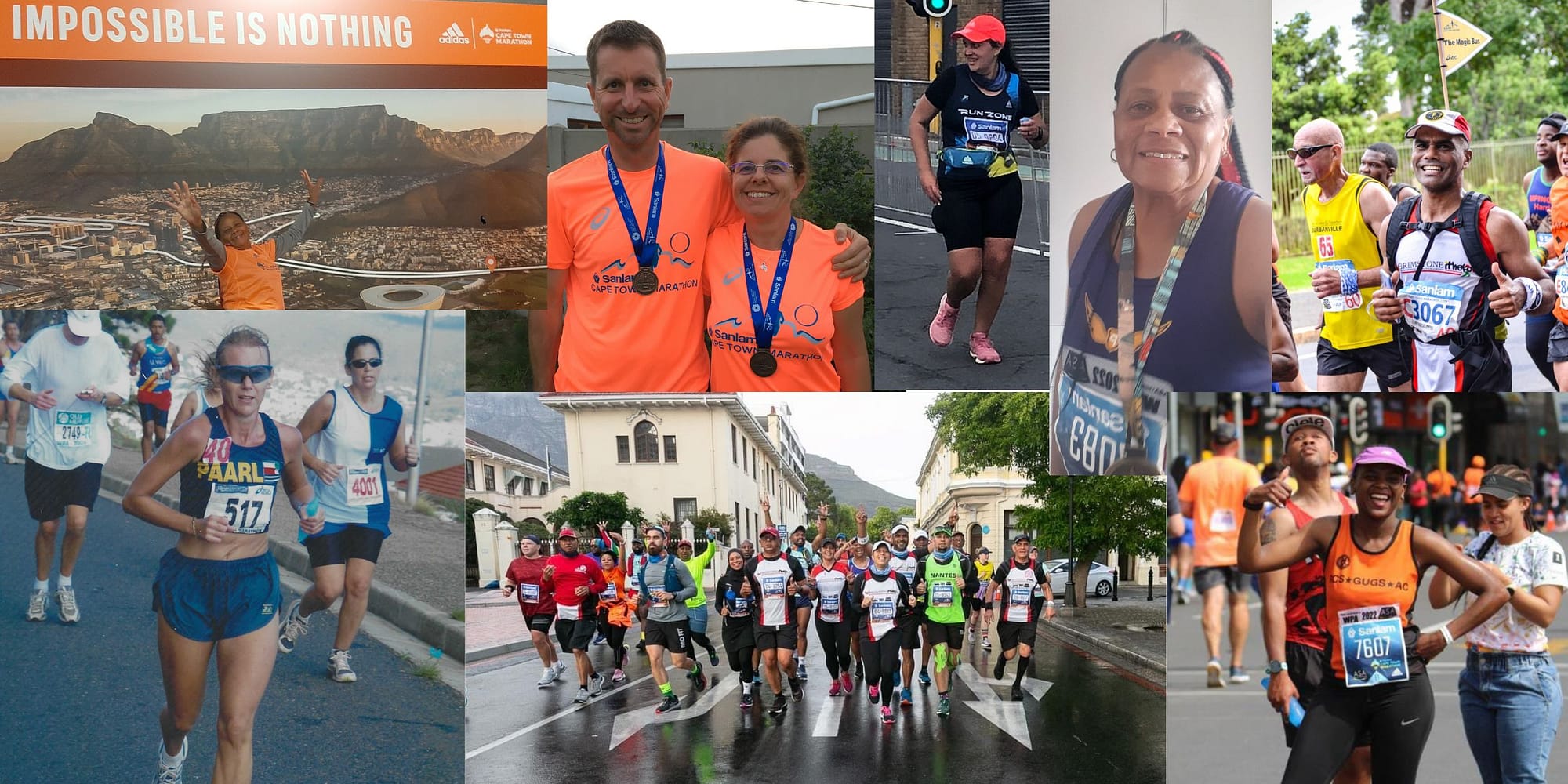 ---
The above stories are only from a select few race participants who responded to our Hall of Fame call-out. The legacy and footprint of all decade (plus)  Sanlam Cape Town Marathon finishes will not be forgotten, and every finish line for our 10-year (plus) runners will be included at this year's expo.
As marathon runners ourselves and inspired by our runners' dedication, we're here for the long run and ready to make history as we race towards becoming an Abbott World Marathon Majors in 2025. Come celebrate your Sanlam Cape Town Marathon PBs and 10-year (plus) victories at this year's event by signing next to your name on the official Hall of Fame.