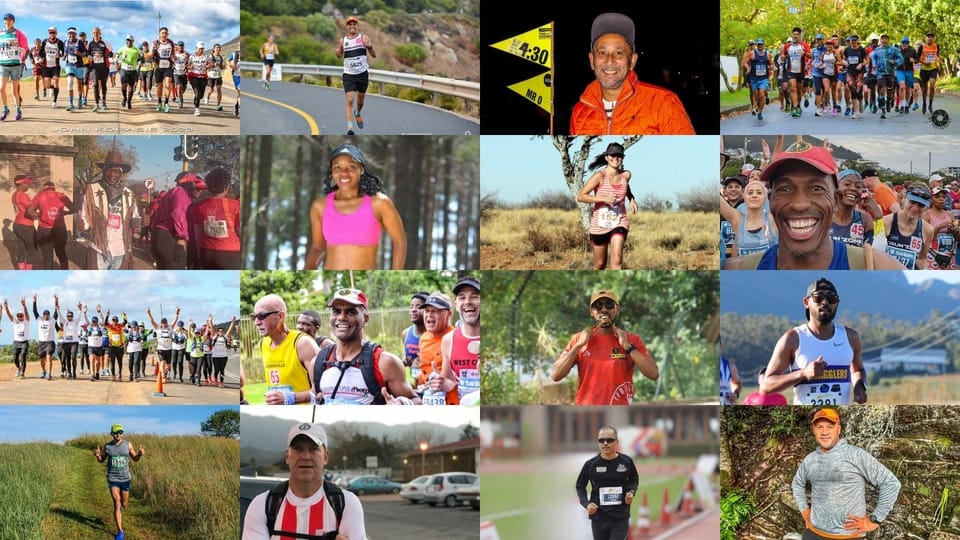 Your 2023 Bus Drivers
Athlete Info   |  Sep. 07, 2023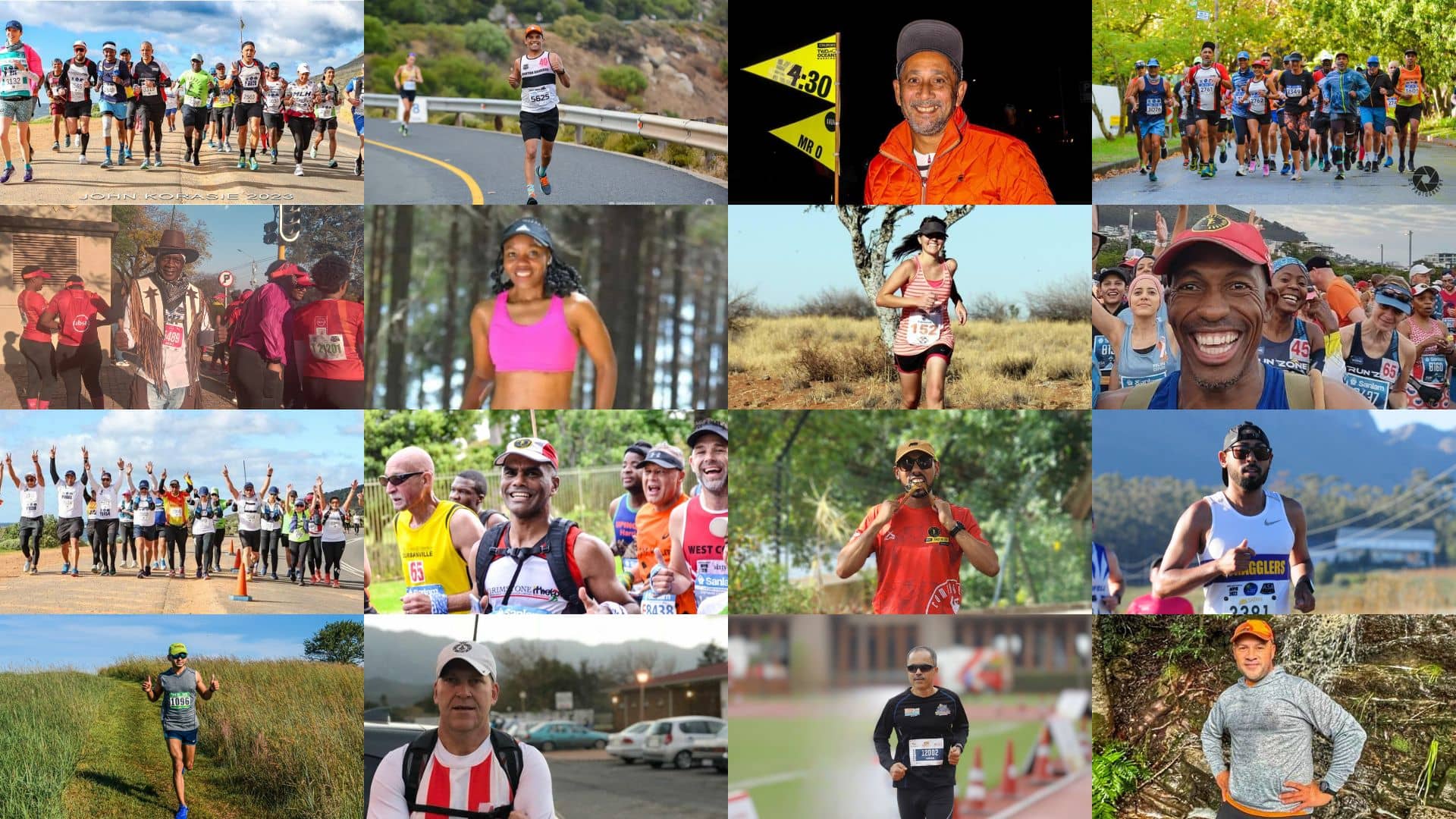 As we gear up for this year's marathon, we're not only celebrating the excitement of running 42.2km but also the incredible sense of community that makes it all possible. The Sanlam Cape Town Marathon team understands that running a marathon is not just about achieving personal goals; it's about helping others reach theirs too. In the spirit of unity and collective achievement, we're excited to introduce this year's marathon pacesetters. These individuals are not only experienced runners but also passionate advocates for pushing boundaries and supporting their fellow runners.
Get to know your marathon pacesetters, because as you join them on the course, you're not just following a pace – you're joining the movement of racing towards Africa's first Major. Pick your bus, set your pace, and let's count down together to this year's Sanlam Cape Town Marathon!
---
Your 3h30 Bus Drivers – Maredi Mphahlele & Lizo Siko – BATCH D 
Maredi Mphahlele finds purpose in running. To him, running is more than just a sport; it's a lifeline. Whenever life's emotional challenges threaten to overwhelm him, Maredi laces up and heads outdoors. With six years of pacesetting to his name, he has helped numerous runners achieve their goals and qualify for prestigious marathons like Comrades and Two Oceans. His playful nature, contagious energy, and "jou lekker mense," vibe ensure that runners enjoy the journey from start to finish.
Lizo Siko finds joy on the open road – he's happiest when running, feeling liberated and unstoppable, "because nothing is greater than smashing goals and accumulating personal bests." Having made his bus driver debut in 2022, Siko has many miles of experience under his belt. He not only brings speed but also his love for Maskandi music, which sets the pace and propels runners toward success.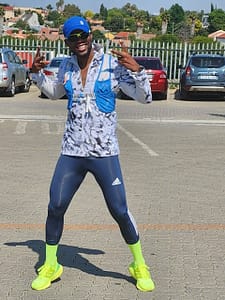 ---
Your 3h40 Bus Drivers – Youssef Kanouni & Anirudha Athani – BATCH F
Youssef Kanouni 
Anirudha Athani is gearing up for the Sanlam Cape Town Marathon and will be travelling from India to share his 9-years of pacesetting-experience. As a devoted runner, Anirudha believes that running is a divine calling, and a profound way to honour God. Running isn't just a physical pursuit; it's a soulful source of happiness. Anirudha will bring his international flair to this year's start line, sharing that his go-to-hype-song on race day is an Indian chant "Ganpati Bappa Moraya;" which he claims gives runners renewed energy when chanted in a group.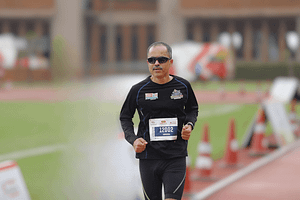 ---
Your #1 4h00 Bus Drivers – JP Juries &  Veruschke Juries – BATCH H 
JP Juries's passion for running goes beyond fitness and personal goals. Running is a way to stay healthy and compete against oneself, but more importantly, for JP, it's an avenue for building connections and friendships. His buses are always filled with laughter and lots of singing. Over his six years of pacing, he has come to realise that while driving his bus is about helping people achieve personal milestones, running must always be fun.
Veruschke Juriestakes to her 10th Sanlam Cape Town Marathon starting line with seven years of pacesetting experience to her name. Veruschke runs because she simply loves it! She loves the empowerment that running evokes; the ability to both disconnect from the craziness of life and connect to herself and the running community. With a 100% success rate for parking her Pacing Bus at the finish line on time, Veruschke guarantees her runners a successful day on the course, assuring that everyone who joins her will "feel like a winner."
Your #2 4h00 Bus Drivers – Prasthantha Viswanatha, Shuan Maregele & Nkosinathi Singonzo – BATCH I
Prashantha Viswanatha lives true to the motto: "It's not what we do once in a while that shapes our lives. It's what we do consistently." This philosophy has guided him through 10 years of pacesetting, across more than 85 full marathon finish lines, and has earned him his 6-star Abbott World Marathon Majors medal! Join his pace group for a worry-free race. He'll keep you on track, motivate you through tough moments, offer course guidance, and ensure efficient hydration use. With his precise pacing and calling out each split, you can be assured that your bus will reach the 4-hour marathon mark right on time.
Shuan Maregele
Nkosinathi Singonzo finds his escape from office life, social media, and the day-to-day buzz in the simplicity of running. For eight years, he has been helping others achieve their personal bests while fostering a sense of camaraderie. Known as the Tambourine Guy, Nkosinathi's electrifying energy and passion make his pacing bus an irresistible journey. His anthem, "Easy Wena! Easy Man! Bereka Wena! Sebenza Wena!" by Road Runners, encapsulates his spirited approach. Running is his therapist, and through pacing, he shares that therapeutic joy with others, guiding them to success.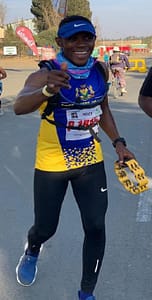 Your #3 4h00 Bus Drivers -Tankiso (Moss) Seabo & Tavon Peterson  – BATCH J
Tankiso (Moss) Seabo's running journey has not only strengthened his physical prowess but also his character. Through countless kilometres logged on the road, he has honed his patience and humility, finding true strength in the rhythm of each stride. Moss uses running as a stress buster; it's his happy place and a source of inspiration. As a pacesetter, he employs running as a tool to empower others, guiding them to achieve their race goals and become better versions of themselves. Moss strongly believes that "everyone can achieve their goals with the right guidance and mindset," and he looks forward to "seeing the smile on your face when you reach the finish line on time for the 4-hour mark."
Tavon Petersen, despite officially becoming a pacer just four months ago, has been assisting friends and other pacesetters for a long time. Having been part of many pacing groups himself, he understands that "pacesetters have to have a heart for it," as they "sacrifice their own race for the benefit of others." The selflessness of pacesetting is what drew him to this role, as he reflects, "many people helped me achieve my running goals, so I thought, what better way to give back than to do the same for others." Tavon emphasises that his racing philosophy is clear: "Your journey to a personal best is not just about crossing the finish line but also about the smiles and positive vibes experienced along the way." While he promises impressive splits and a 4-hour result, his primary race focus is to create an unforgettable atmosphere at the Sanlam Cape Town Marathon.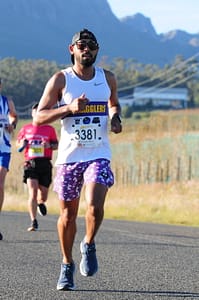 ---
Your 4h15 Bus Drivers – Frans (Smash) Ramoshaba & Lindiwe Maphela – BATCH L
Frans Ramoshaba – also known as SMASH – finds his purpose in running, describing it as a source of positivity and a connection to Jesus. His bus is called the Groove Shuttle, and with two years of pacing experience, he has always confidently met time goals, moving and grooving across the finish line with his runners. For Smash, running is not just a sport; it's a spiritual journey that brings people together to achieve greatness. Running is about leaving behind life's troubles and moving forward together. Smash says over the years he has become "people's running Moses" as he has turned many failed attempts to qualify for Comrades and Two Oceans into victories. Follow Smash to achieve the 4h15 finish!
Lindiwe Maphela runs because she "loves the feeling after crossing the finish line," she says. "And to be honest, running saved my life; it's the only thing that makes sense to me right now." What sets Lindiwe's bus apart is that while burning rubber, she's also burning with the desire to help others achieve their running dreams. As a pacer, she meticulously follows pace charts, communicates each target, every water table, when to eat, when to take a breath… Lindiwe is cool, calm, relaxed, yet fiercely focused. So, if you're looking for an unforgettable journey towards your running goals, Lindiwe's bus is the one to hop on. P.S. Start practicing your "Asambe Nono" singing, as this is Lindiwe's running anthem from start to finish.
---
Your #1 4h30 Bus Drivers – Reneé Cupido & John Legoale – BATCH N
Reneé Cupido
John Legoale – Running makes him feel truly alive, and it instils in him the belief that he can conquer anything life throws his way. On John's bus, the atmosphere is electric. Passengers sing motivational songs, share encouragement, and even bust dance moves as they make their way to the finish line. And when it comes to hyping up his crew, John's go-to song is "NDLELA VULEKA," the anthem that has propelled him to cross the finish line without fail. With two years of experience in pace setting at all the Gauteng races, John has mastered the art of pacing and is excited to run this year's Sanlam CTM.
Your #2 4h30 Bus Drivers – Zama Lekhula  & Dorian Esau – BATCH P
Zama Lekhula 
Dorian Esau – has four years of pacesetting experience under his belt. He says the best thing about pacesetting is helping "novices and first-timers, or people who have been trying for years to run a specific time," achieve their goals. This is Dorian's joy for pacesetting and why he loves it so much. Runners joining his crew experience a "jol" where worries about time and pace melt away. Dorian's trademark hype song sets the tone: he shouts "POWER," and the runners respond with "ENERGY." It's a call-and-response that fuels their determination. Other chants like "WAARS DIT LEKKER" and "HIERS DIT LEKKER" bring a sense of camaraderie and fuel the fire to run.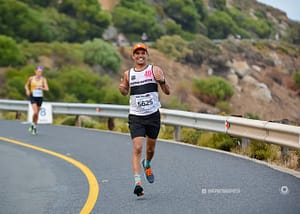 ---
Your 4h40 Bus Drivers – Tumo Mokhatla & Adul-Muizh Lewin – BATCH Q
Tumo Mokhatla 
Adul-Muizh Lewin 
---
Your 4h50 Bus Drivers – Ashraf Orrie, Paul Murphy & Ebrahim Abrahams​​ – BATCH S
Paul Murphy 
Ashraf Orrie – AKA MR O – is the heartbeat of the running community. Mr O is known for his on-route social-media-influencing, his mandatory smoke breaks, and for running every single race there is. Not only locally, but internationally as well. While Mr O only took to pacing post-Covid, he has paced countless events since – accumulating a 100% track record of finishing on time.
Mr O said that the "word on the street is that his bus is the safest," and with all the "sh1t-talk and chirps on route," runners can be "assured that he will take your mind off the magnitude of a marathon distance."
Mr O's "Bus for Us" pace includes regular run/walk intervals, and he confidently says if you join him, you will finish at below 4h50 – 4h49h59s to be precise.
Ebrahim Abrahams​​ aka 'Magic,' is a runner who thrives on pushing boundaries and inspiring others. With a decade of pacing experience to his name, he's built a reputation for his race-bus, known as 'The Magic Bus.' His belief that running is accessible to all, regardless of fitness levels, has formed a tight-knit group of followers. Ebrahim's meticulous planning and commitment lead to extraordinary results in races from 5km Park runs to the ultimate Comrades Marathon. As he prepares for his 10th Sanlam Cape Town Marathon, he embodies the magic of dedication and community, inspiring runners to believe that anything is achievable with the right mindset and support.
---
Your 5h00 Bus Drivers – Francois Grobler & Angelo Adams – BATCH T
Francois Grobler has been pacing for six years, guiding runners through short sprints and gruelling long-distance challenges like the Two Oceans Marathon and the Comrades Marathon. He says he's not just there to keep the tempo; he's a friend who keeps the conversation flowing and the spirits high. Depeche Mode's "Just Can't Get Enough" is the anthem of Francois's runs, and true to this song's lyrics, his passengers often finish races feeling like they could go another round.
Angelo Adams cherishes the "feel good factor" that running brings to his life. It's not just about the endorphin rush; it's about connecting with friends and like-minded individuals who share his love for pounding the pavement. He adopts a "no frills, no fuss" approach to pacesetting, saying his bus isn't about competition or setting records. It's about cruising through the city, absorbing its sights and sounds, making the most of the aid stations, and celebrating the privilege of being able to run.
---
Your 5h15 Bus Drivers – Buks Van Heerden & Neezaam Mohamed – BATCH U
Buks Van Heerden is a devoted runner, with over 800 marathon finishes under his belt. Running is his life and offers him a dynamic challenge that has him hooked. He finds joy in meeting new people and cherishes the camaraderie, teamwork, and entertainment that running brings. Having led the Sanlam Cape Town Marathon sub-5-hour bus three times without failure, he promises a successful 5h15 bus this year. As a pacer for the past nine years, he's guided over 333 buses, helping runners chase and achieve their dreams. His go-to running theme song is Pata Pata by Miriam Makeba, a track that he knows helps him and his runners "#Chase dreams and realise them!"
Neezaam Mohamed' has found the perfect balance between fitness and fun. His bus is always a party, with the best jams playing – his personal favourite, "Eye of the Tiger," is a classic motivator. Neezaam also promises to go viral on socials when you run with his bus, as "you can be guaranteed that plenty of videos and photos will be captured on route," as proof that you reached your Sanlam Cape Town Marathon goal of a sub-5h15.
---
Your 5h30 Bus Drivers – Xolani Duma, Mkokeli Malghas & Diana Jansen – BATCH W
Mkokeli Malghas
Diana Jansen 
Xolani Duma loves to run, and with nine years of pacesetting, he's built a reputation for his inclusive approach, especially with slower runners. Helping everyone achieve their time goals while creating a fun and supportive atmosphere.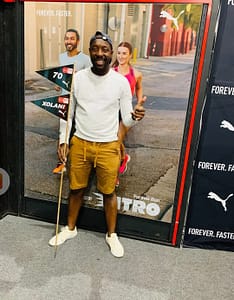 ---
Your 6h00 Bus Drivers – Shadieda Thungo, Magdaleen Kemp & Natasha Arndt – BATCH X
Shadieda Thungo
Magdaleen Kemp – When she started running, it was never to beat the person in front or even next to her but rather to enjoy the journey and share the accomplishment of finishing something together. Being able to motivate and encourage others, even if that means shuffling along in silence, is what brings Magdaleen joy. Magdaleen understands that the essence of races goes beyond the cap, the goodie bag, the colourful race shirt, or the shiny medal. What truly matters to her is finishing a race with a friend by her side, an experience that is absolutely priceless. She cherishes the camaraderie and bonds forged on the road. This female-led bus is known as the "trustful" bus – because "when the wheels come off," Magdaleen promises to "be sweeping you back in, willing you back into finish-line mode and securing a solid, goal-finish."
Natasha Arndt – Running offers Natasha the precious gift of introspection. In the rhythmic cadence of her steps, she finds the space and time to check in with herself, a moment of solitude in a busy world. Yet, it's not just a solitary pursuit; running is also about engaging with others. It's a reminder that the running community is diverse and inclusive, not an exclusive club for elite athletes only. Whether you complete a kilometre in 10 minutes or 3, you're a runner, and Natasha believes every runner deserves to be celebrated. Her bus is a place for walking, talking, and problem-solving; a place where the journey is as important as the destination. She's a firm believer in the mantra that slow and steady completes the race. While her bus may be carefree, sticking to the plan and maintaining consistency are key principles she values. Expect exceptional beats if you join her bus – where her go-to song "Coming Along" by Sunset Sweatshop will certainly be played. As a newcomer to bus driving, Natasha can only speak to what drew her to this role and the admiration she holds for the drivers whose buses she's been on. What resonates with her is the opportunity to help others achieve their running goals. It's not just about her achievements; it's about creating an atmosphere where everyone can embrace her "COME ALONG" spirit.
---
Your 6h30 Bus Drivers – Bothwell Matewe, & Thabani Khumalo  – BATCH Z 
Bothwell Matewe says running is his life, and strongly believes that "just like reading nourishes one's mind, running nourishes his body." The "Bothwell Bus" stands out not only for having chased and secured podiums in the past but also for pacing new and slower runners to the finish line. Rocking up to race day in a unique and flamboyant outfit for each race, Bothwell's bus energy is always colourful, vibrant, and infused with fun. 
Thabani Khumalo – discovered his passion for running at 40, after a lifetime of soccer training. He loves how running keeps him youthful, adding that he loves surprising people when they learn his true age. But Thabani's love for running extends beyond the age-defying benefits of the sport. It's also about the unique bond he forms with his passengers on the bus he drives. Spending nearly half a day together, these connections are built naturally. Thabani's role extends beyond the driver's seat; he becomes a motivator and a source of inspiration for passengers who might be on the verge of giving up. While he doesn't have a go-to hype song for race day, you can expect to learn and partake in many of his catchy slogans and chants – like, "1, 2… easy wena." To easily make it over the finish line in 6h30, join Thabani at the start of this year's marathon.