Your 2023 Wheelchair Race Elites
Athlete Info   |  Sep. 27, 2023
The Sanlam Cape Town Marathon is set to host its second annual Elite Wheelchair race, and anticipation is running high. This year, the event promises an even more exhilarating race, as an impressive lineup of Elite Wheelchair racers are readying themselves to take on the revamped course. With the removal of the District-6 climb from the new and improved route, athletes can look forward to a faster, more competitive race.
Men's Elites
These remarkable athletes have trained relentlessly, pushing their physical and mental limits to compete at the highest level of wheelchair racing. Our 2023 Elite Men's field of internationally recognised racers ups the ante of this year's race; with each athlete bringing a unique blend of skill, speed, experience and determination to the startline.
Geert Schipper – the Dutch racer, sponsored by Schouten Techniek and Vicair.nl, with a personal best marathon time of 1h34m23s (set in Paris), takes to this year's marathon start.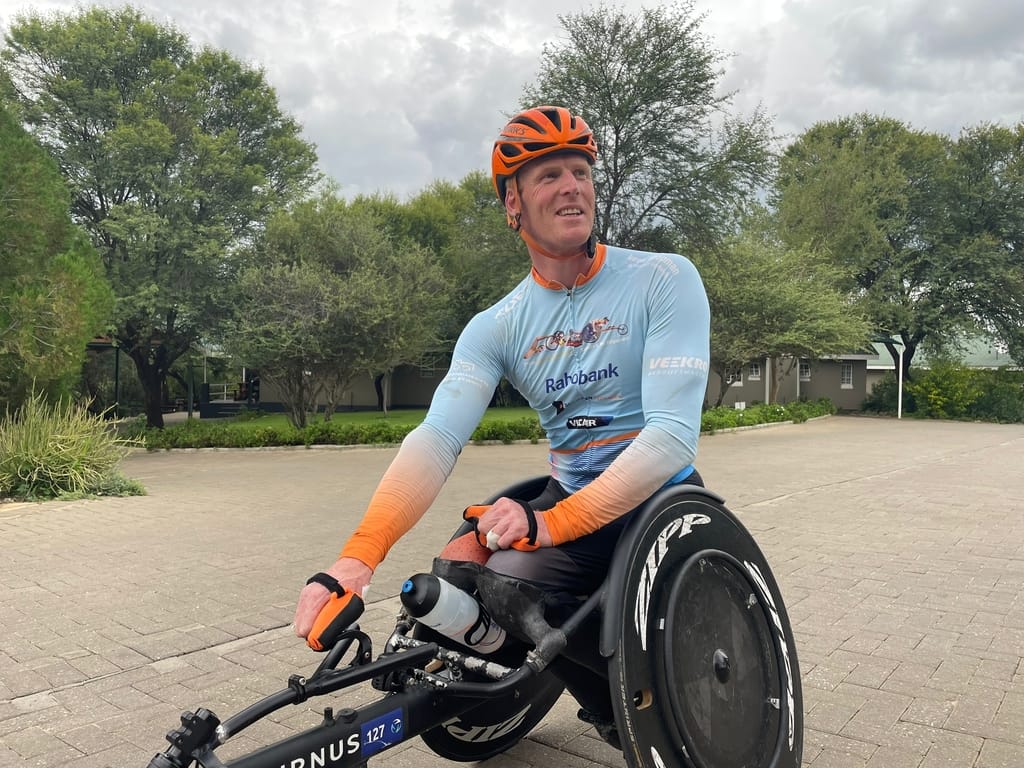 Rafa Botello sets the wheels of excitement into motion for the 2023 Sanlam Cape Town Marathon. With a personal best marathon of 1h22m09s, achieved at the Boston Marathon in 2017, he brings speed to Cape Town's streets. Sponsored by C.D. Arniab, he's ready to take on his second Sanlam Cape Town Marathon. Reflecting on last year, Rafa remarked, "I don't think I gave 100%, and this year, I would like to improve that." As a returning racer, passionate and inspired by the beauty of our city, he is not only excited to share the race with his close friend and competitive athlete Ernst Van Dyk, but also is racing to help give our marathon a shot at Major status.
Michael McCabe is a skilled wheelchair racer from the UK, who boasts an impressive personal best time of 1h35m15s, achieved at the London Marathon. This year, his race schedule has been nothing short of remarkable, featuring prestigious events such as the London Big Half Marathon, the Great North Run Half Marathon, and the Berlin Marathon. Now, he eagerly anticipates his participation in the Sanlam Cape Town Marathon in October. Michael cannot wait for his upcoming adventure to South Africa, marking his first time in the country and an exciting opportunity to compete on a fresh marathon course alongside top-tier athletes. As his debut Sanlam Cape Town Marathon, Michael doesn't have overly ambitious goals, but hopes to "complete the race successfully, avoid course mishaps, and aim for a strong finish." Above all, Michael is looking forward to the opportunity to race in the captivating city of Cape Town, amidst its stunning Table-Mountain backdrop.
Gonzalo Valdivianos – the Kextra sponsored Elite travels from Mexico to race this year's Wheelchair race. With a PB time of 1h30m16s (set at the Marathon of Duluth), Gonzalo promises to deliver a thrilling performance and represent Mexico with pride on the international stage.
Sean Frame – Scottish racer, Sean Frame – sponsored by Express Tyre Services and Lockerbie – has a personal best marathon time of 1h36m19s. His 2023 races have included the London Marathon, victory at the Manchester Great Run 10K, the Berlin Marathon, and the Dublin Marathon. Sean's excitement knows no bounds as he gears up for a fresh challenge—the Sanlam Cape Town Marathon. This new marathon presents not only a thrilling race but also an opportunity to explore a different part of the world. Despite his excitement for another overseas event, Sean shares the typical challenges of travel logistics and finances when flying as a Wheelchair racer. Sean's goals are straightforward: "to enjoy the race, avoid technical issues on route, and aim for a podium finish." What tipped the scales in favour of our race for Sean was the enthusiastic recommendation from fellow racers who competed last year. "They had nothing but praise for this exciting marathon, making it a must-do," for Sean Frame.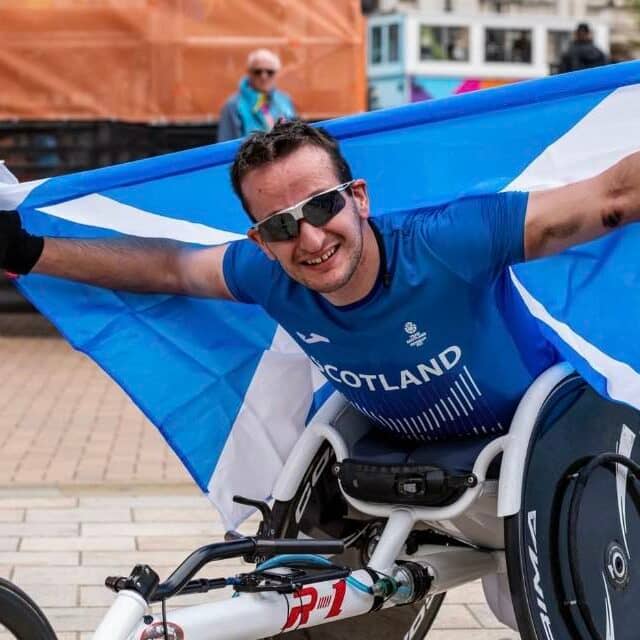 Ernst van Dyk – South African wheelchair racer, Ernst is gearing up for his final race at this year's Sanlam Cape Town Marathon. With an illustrious career spanning 30-years, including competing in marathon Majors worldwide, Ernst's dream of a Major sporting event on home soil can finally become a reality. For Ernst, family and the close-knit racing community have been an integral part of his Wheelchair journey; and he is excited to have his racing-family experience the beauty of South Africa. Reflecting on the changes to the Sanlam Cape Town Marathon course, Ernst notes the removal of a challenging 90m climb predicts a 5-minute reduction in race time. This alteration increases the likelihood of achieving personal bests, a fitting ambition for his final race. However, retirement means Ernst won't miss the expensive equipment and logistical challenges that come with Elite Wheelchair racing. He recalls the complexities of travelling with specialised equipment, dealing with luggage fees, and the fear of damaged or lost gear. Fortunately, advancements like tracking devices have improved the situation, but long-haul flights and the health challenges of extended sitting remain obstacles for Elite Wheelchair racers. As he approaches his final race, Ernst is excited to share the course with some of his closest racing friends, hoping to enjoy the circuit without the pressure to perform.
Mark Millar, Alan Frias, Jordi Madera Jimenez (PB of 1h22m10s) and John-Boy Smith (PB of 1h20m05s) will also be joining this year's start line.
---
Women's Elites
The Women's Elite field promises an equally fast and competitive field. The extraordinary women who have dedicated themselves to rigorous training, pushing the boundaries of their physical and mental capabilities to excel in the elite world of Wheelchair racing, include:
Vanessa Cristina De Souza, a Brazilian wheelchair racer with a personal best time of 1h40m21s, is proudly sponsored by Fast Wheels, Fupes, MDL, Celular Matter, and Dias Etapas. After her recent 4th-place finish at the Boston Marathon (1h50m40s) this year, Vanessa is gearing up for a busy 2023 race calendar, including the Berlin, Chicago, Cape Town, and New York Marathons. Vanessa's return to Cape Town is driven by her love for the city and the warm welcome she received during her previous visit. Despite the challenges of travelling with equipment and limited media exposure for Paralympic sports in Brazil, Vanessa is determined to improve her personal best and potentially secure her second Sanlam Cape Town Marathon victory.
Noemi Alphonse – recent silver and bronze medalist at the World ParaAthletics Championship in Paris – is gearing up for the Sanlam Cape Town Marathon. Noemi appreciates Cape Town's unique African setting and looks forward to reuniting with friends, enjoying scenic views, and soaking up the crowd's energy. Despite her favourite uphill section being removed from the marathon route, Noemi is excited to race the new course. Noemi's goal this year is to land on the podium, aiming for a personal best or an improved performance compared to last year.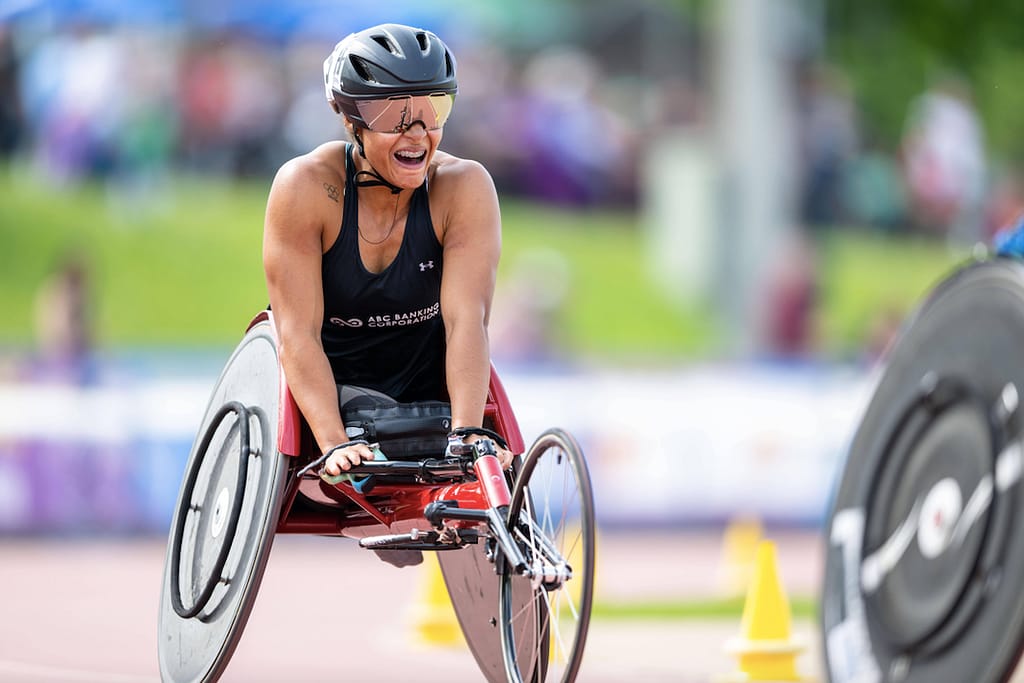 Christie Dawes is an Australian Wheelchair racer sponsored by Ace Sunglasses and Cocoon SDA Care. Her personal best time of 1h37m00s boasts an impressive result; as do her recent international finishes which include Tokyo (5th), Boston (6th), London (11th), and Gold Coast (2nd). Christie, a seasoned racer of over 25 years, appreciates the progress in inclusivity and support for diversity in sports. Cape Town holds particular excitement as her first South African race; with her goal for this year being primarily a podium finish.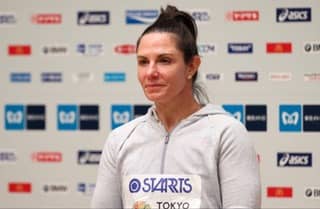 Carmen Giménez found her path to wheelchair racing following a life-altering incident in 2010—as a victim to sexual-violence, this assault led to a spinal cord injury. Since then, she has embraced the wheels of a chair with determination and purpose. Carmen's commitment extends beyond racing; she founded the 'Fundacion Run for You,' an inclusive project dedicated to promoting shared spaces between individuals with and without disabilities, making adapted sports more visible, and facilitating initiations which promote easily accessible tools, information and advice for both wheelchair and non-wheelchair racers. Her racing journey boasts impressive achievements, including a PB time 2h14m45s in the 2nd International Zurich Marathon of Seville. Carmen's racing calendar for the year includes prestigious events like the Berlin Marathon, the Sanlam Cape Town Marathon, and the Oita Marathon. She sees Africa, particularly Cape Town, as a welcoming and inspiring destination, a place where marathon runners can thrive. Reflecting on the changes in the Sanlam Cape Town Marathon route and the improved terrain, Carmen is excited to take on the challenge. She acknowledges that one of the significant hurdles faced by wheelchair athletes is visibility and normalisation, emphasising the importance of inclusive events like the Sanlam Cape Town Marathon. Her decision to participate in the Sanlam Cape Town Marathon was greatly influenced by wheelchair racing legend Ernst Van Dyk, whose support played a pivotal role in her journey as a wheelchair athlete. To race with Ernst excites Carmen, inspired by the very person who helped her launch her athletic career, she's ready to better her 2022 time and promises a strong race-result.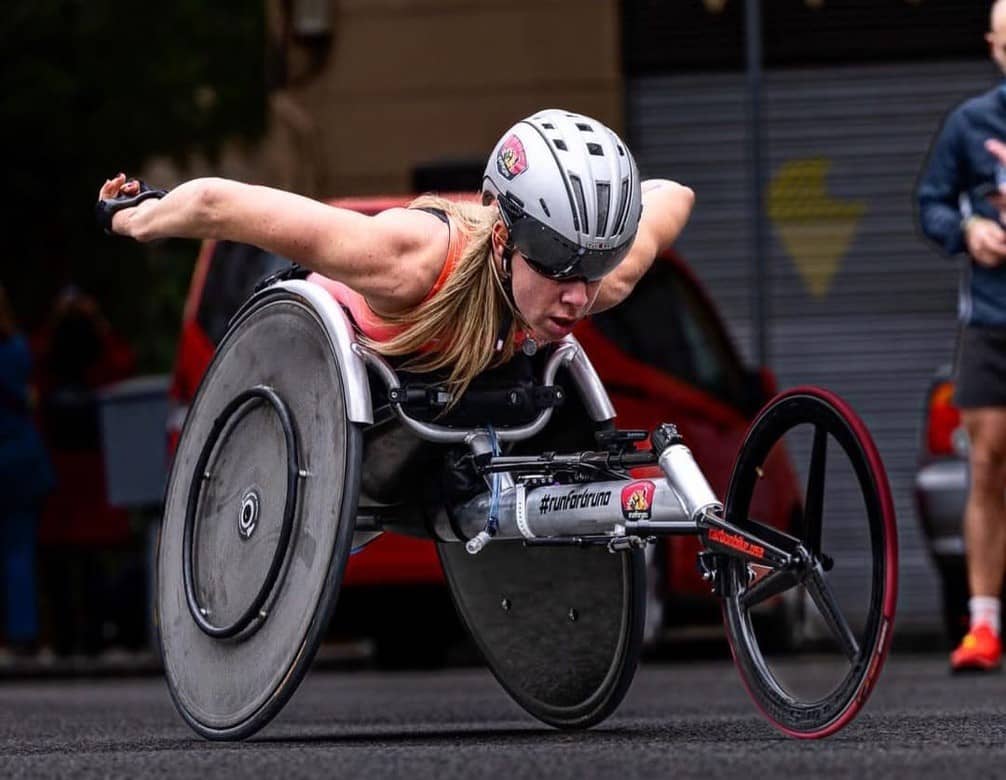 Eden Rainbow-Cooper was born with sacral agencies, but never let this diagnosis handicap her dreams or ambitions. She started her competitive-racing journey as a teenage, and now, at only the age of 22, she has racked up an impressive number of podium-finishes to her name. Apart of the Weir Archer Academy Rainbow-Cooper's successes include a 5000m British Record, 2nd place at the Common Wealth Games in 2022, 3rd place at the TCS London Marathon 2023 and her recent-near victory at Berlin Marathon – crossing the finish-line in 2nd-place 1:34:17 (1 second off from the victory). Rainbow-Cooper joins this year's 2023 Sanlam Cape Town Marathon start-line and promises a phonemail race. 
Margriet van den Broek will also be taking to this year's wheelchair start line.