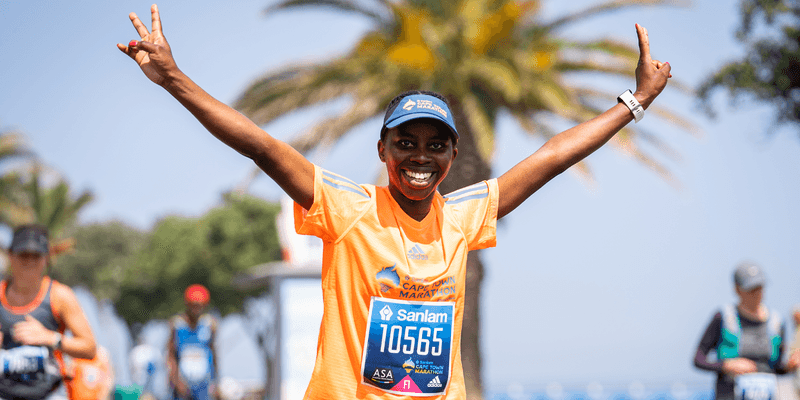 Run with Confidence in 2023
Athlete Info   |  Feb. 24, 2023
As we enter our second year of assessment toward Africa's first Abbott World Marathon Major, the Sanlam Cape Town Marathon continues demonstrating our intention of putting the participant's best interests first.
We confidently deliver on our intrinsic values related to the inner workings, planning, and implementation of our events:
We commit to delivering a well-organised, professionally managed, and great experience for runners, supporters, and online viewers.
We continue to build on our ten-year track record of consistently improving the quality of all our events and their resultant growth through innovation.
We stepped up during the Covid-19 pandemic, when most events were cancelled, and presented an innovative Virtual Marathon. The first marathon event out of lockdown the following year included a 100% refund policy if cancelled.
We confidently deliver on our intrinsic values related to creating new opportunities around the combined performance of critical partners, which extend reach and impact:
The Cape Town Marathon is sponsored and backed by longstanding founder Sanlam.
The Cape Town Marathon is sustainably supported by global technical partner adidas, with gear, shoes and apparel.
The Cape Town Marathon is amplified and made famous by KFM.
The Cape Town Marathon is activated and motivated by Virgin Active.
The Cape Town Marathon is widespread throughout our National Running Clubs.
The Cape Town Marathon is backed by the City of Cape Town, the Mayor, and notable authorities.
We confidently deliver on our intrinsic values related to effective innovation, presentation, and design of our events:
Our online runners' Portal provides resources, advice, and a growing supportive community.
Our all-new 2023 route has been tweaked to improve runners' PBs and finishing times.
Our new Start and Finish line will include an impressively upgraded Race Village.
Our Elites will compete for the highest-value marathon prize money in Africa.
Our runners will get free access to personal images post-race.
And finally, we confidently deliver on our extrinsic values that nurture authentic human and emotional connections:
We host four additional and inclusive running events that allow more runners of all ages, abilities, and disabilities to participate.
Global legend Ernst Van Dyk, Race Ambassador for the new wheelchair category, represents us.
We document and share Running Life Stories of true heroes like Lydia Simiyu and Sadia Jakoet.
We will continue to ensure you enter with confidence, train with confidence, and #RunWithConfidence.