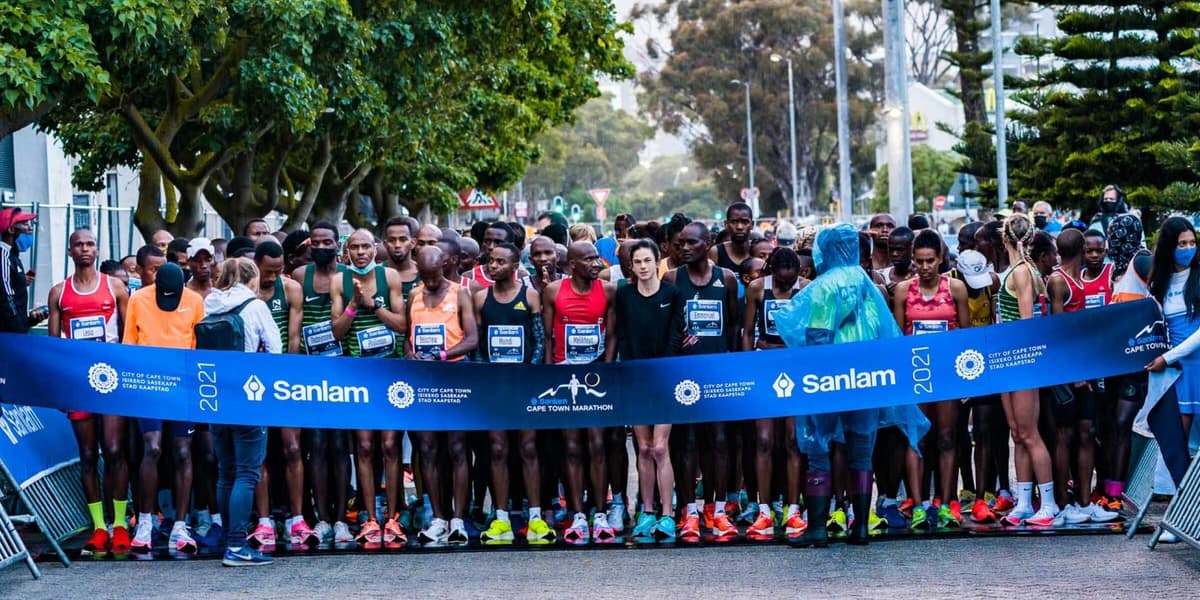 Park and Ride, or Park and Walk to the Marathon Start
Athlete Info   |  Sep. 21, 2022
Book Your Park & Ride or Park & Walk Ticket.

Marathon road closures will result in little to no access to parking near the start/finish area. Don't risk getting stuck in traffic jams and forfeiting your marathon because you arrived too late. There is a solution!
Sanlam Cape Town Marathon's convenient Park & Ride and Park & Walk options for Sunday, 16 October, will safely take you to the marathon start (and back), so you can enjoy your day without worrying about traffic. Book by 30 September!
Park & Ride
Ticket Price:  R50 per person
Departure Venue: UCT / Century City
Departure Times: 
Runners seeded A – E:  04h00 – 04h30 (last bus leaves at 04h30 sharp)
Runners seeded F – H:  04h30 – 05h00 (last bus leaves at 05h30 sharp)
Travelling in designated lanes with the MyCiTi fleet, you will arrive at Race Start in Green Point with at least an hour to spare to hand in your tog bag, do the last toilet stop and line up in your start chute. These buses will depart from the Finish Area in Green Point between 10h00 and 14h40 (last bus) to transport runners back, meaning you won't have to wait too long for a ride back after your finish. 
Park & Walk
Ticket Price: R100 per vehicle
Park At: Silo or Battery Park Parking Garages, V&A Waterfront
** Access to Dock Road – and therefore these parking garages – close at 05h40. Please don't be late!
Enjoy exclusive, secure parking in the V&A Waterfront's Silo and Battery Park Parking Garages, and walk approximately 1.5km to the Start. Shuttles will depart from the Finish Area in Green Point between 10h00 and 14h40 (the last shuttle) to take you back to your parking garage.
Note that there is no shuttle to the start, you have to walk or run.
Silo and Battery Park are the ONLY two garages exclusively open to Sanlam Cape Town Marathon participants. Do not attempt to access the other parking garages; these need to remain open for patrons, tenants and staff, and the Waterfront Security Management reserve the right to close these parking garages, should they see an influx of early morning parking garage access. 
Your Park & Ride / Walk Questions, answered:
Q: Why should I use the Park & Ride or Park & Walk facility on Sunday 16 October?
A: Due to the nature of the Sanlam Cape Town Marathon route, access to the Race Start and surrounding areas by car will be near impossible. We therefore offer this facility to runners to help you get to the start line without having to worry about traffic jams and parking challenges.
You don't want to get stuck in traffic on your way to your start and risk missing the start of your marathon. The staggered starts mean that there is a continuous flow of runners making their way through the start chutes, and it is imperative that you join your start group at the right time.
Therefore, the Park & Ride or Park & Walk facility is the only solution to getting to the start on time.
Using the Park & Ride or Park & Walk facility, you will also help alleviate any possible traffic issues for residents and businesses.
Q: But… I really want to drive in. Can't I just join a later start group?
A: No. As the start chutes are carefully designed to only accommodate a certain number of athletes at any time, you are required to join your designated start group. Using the Park & Ride facility, your arrival will be at least an hour before your race start, giving you enough time to book your tog bag in and make that all-important pre-race toilet stop.
Q: How will I be transported if I choose Park & Ride?
A: The MyCiTi fleet will transport athletes on designated lanes from UCT and Century City.
Q: How do I get back to my car after I've finished?
A: Buses and shuttles will take you back to UCT, Century City and the Park & Walk parking garages in the V&A Waterfront, departing between 10 am and 14h40.
Q: Why is the Park & Walk option more expensive?
A: The V&A Waterfront's Silo and Battery Park garages will open early, exclusively for accredited Park & Walk athletes, offering the only secure parking set aside for the event that is conveniently close to the Race Village. The R100 ticket is per car, meaning athletes can carpool.