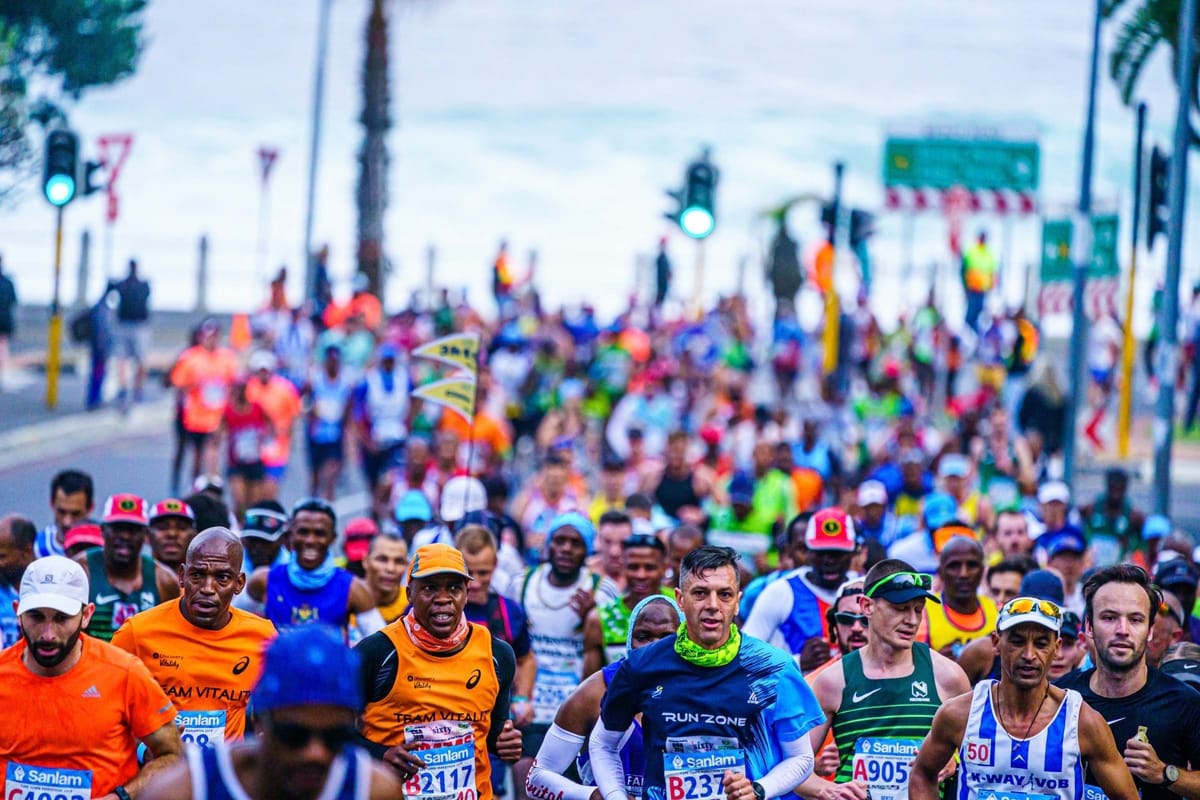 Sanlam Cape Town Marathon marks return to mass participation events
Media Release   |  Sep. 15, 2021
The Department of Sport, Arts and Culture has given the organisers of the Sanlam Cape Town Marathon approval to stage the iconic marathon – albeit with a reduced field.
"We originally received support to go ahead with our planning after presenting our extensive COVID-19 Risk Mitigation Plan, but this approval officially gives us the peace of mind that we will be able to host 10,000 marathon runners in a safe race in Cape Town on 17 October," confirms Renee Jordaan, Sanlam Cape Town Marathon Race Director.
"We are proud to be among the first mass participation races – and the first marathon – to return to the South African sporting arena in 18 months, and are fired up to commence the final stages of our race planning over the next month."
The following adjustments will be in place for the 2021 Sanlam Cape Town Marathon weekend:
Limited field of 10,000 runners for the marathon.
The Start line moves to Fritz Sonnenberg Road, where a staggered start will see runners setting off in seeded batched groups (1 minute apart) to allow for ample social distancing.
All runners will be required to undergo COVID-19 Antigen testing at Cape Town Stadium in the 48 hours prior to the race, before entering the Sanlam Cape Town Marathon Expo. Testing will be compulsory regardless of vaccination status, and free of charge.
The 22km and 46km Trail Runs will go ahead with a limited field of 1,000 runners.
Runners can enter the 5km and 10km Virtual Peace Runs, as well as the Virtual Half Marathon for free via www.capetownmarathon.com.
Sanlam Cape Town Marathon Co-founder and Ambassador, Francois Pienaar added this approval is testament to the team's hard work to make this dream a reality. "The organising team's gargantuan efforts over the past few months have paid off, and we are poised to stage Africa's only World Athletics Gold Label marathon and the ASA Marathon Champs in a month's time. We are incredibly grateful for the support from the Department of Sport, ASA, and all our stakeholders."
Mokoka, Steyn headline 2021 marathon field
Course Record Holder and 2018 winner, Stephen Mokoka and SA Marathon Record Holder, Gerda Steyn were unveiled today as the South African representation to take on a deep and stellar men's and women's field at the 2021 Sanlam Cape Town Marathon on 17 October.
Mokoka won the 2018 race in a time of 2:08.31 to break the course record of 2:08.41 set by Asefa Mengistu of Ethiopia in 2016 on the way to his first of two victories. The South African 10km and Half Marathon record holder has amassed an incredible marathon CV since turning his attention to the 42.2km. In 15 starts, Mokoka has five victories to his name, two runner up positions and third once. Arguably one of his best performances though is the 5th place at the World Marathon Championships in Doha in 2019.
Mokoka's return to the Sanlam Cape Town Marathon stems from a deep desire to own the fastest marathon time on South African soil. "It is no secret that my (late) father-in-law (Zithulele Sinqe) has the fastest marathon time on South Africa soil*. I want to own that 2:08.04 and the fast and flat course of Cape Town is perfect to run that time."
For Gerda Steyn the Sanlam Cape Town Marathon has special meaning. Since turning her focus onto the marathon, Steyn has improved steadily and made the big marathon breakthrough when she qualified for the Olympics after running 2:27.48 at the New York Marathon in 2019. Under trying conditions Steyn took a minute off that time in London in September 2020 to clock 2:26.51 before smashing the long-standing SA Record of Colleen de Reuck (2:26.35 – 1996) when she finished 9th at the Sienna Marathon in Italy in April, finishing in an astounding 2:25.28. And so, for the first time she lines up at a marathon as one of the favourites to win her first ever marathon on South African soil.
"To be able to run against some of the best in my first ever marathon on home soil is special for me. So that in itself comes with pressure. I put pressure on myself to run well, and with ladies on my heels it will be a great race."
Deep field to provide challenge
The men's race will also feature the likes of Belachew Ameta from Ethiopia, Emmanuel Oliaulo Ngatuny from Kenya, 2019 Sanlam Cape Town Marathon runner up, Daniel Muteti, also from Kenya and Ethiopia's newly crowned 50km World Record Holder, Ketema Negessa. Ameta scorched to a 2:07.55 in Seville in 2020, while Ngatuny won the 2019 La Rochelle Marathon in 2:08.22.
Steyn will expect stiff opposition from Kenya's Lucy Karimi after the Kenyan finished third in the Geneva Marathon, crossing the line in 2:24.24. Ethiopia's Nurif Shimels who finished second at the Sanlam Cape Town Marathon in 2019 in 2:27.40 is also back. Adding further lustre to the women's field is Kenya's Naomi Jepkosgei Maiyo. Also no stranger to the Sanlam Cape Town Marathon, Maiyo was 5th in 2017. Both Shimel's and Maiyo will be renewing a rivalry with Steyn after the latter two had also raced in the Sienna Marathon in April this year. Steyn finished 9th, Maiyo 18th and Shimels 14th.
The Sanlam Cape Town Marathon is Africa's only World Athletics Gold Label Status event and was recently confirmed as an Abbott World Marathon Majors Candidate race, with its multi-year evaluation process starting in 2022. Visit www.capetownmarathon.com for more information and to enter the 2021 event – limited entries are still available. Entries close on 17 September.
[FOOTNOTES]
*The 2:08.04 of Zithulele Sinqe is the fastest on South African soil and was run in 1986 in Port Elizabeth, but with a drop of 129m it is considered an aided course and as such is the unofficial fastest marathon time on SA Soil.
[ENDS]

Issued by: Sanlam Cape Town Marathon Media Office
Media queries, interview or image requests:
Leonie Mollentze
Tel: 082 550 1514
Email: leonie@capetownmarathon.com
Event queries:
Email: raceoffice@capetownmarathon.com